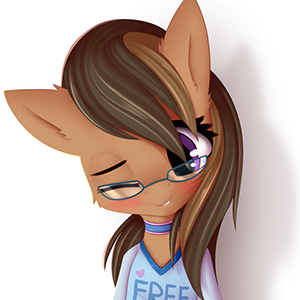 Posts: 4329
Joey
Site Developer
Nerd Pony
My friends, over the past year we've once again grown as a community, improved as artists, created a ton of awesome new OCs, and welcomed a number of new artists and creators to our fandom. Therefore, it is my great privilege and pleasure to announce the next round of showcasing who we are as a community and creating something truly amazing:
The 2019 Derpibooru Community Collaboration Project has begun!
The Derpibooru Community Collaboration is an annual showcase of who we are as a community. Every year, hundreds of artists and fans gather together to create a massive group photograph showing off the original characters of our community. The collaboration is open to everyone in the MLP art community, whether you're an artist, a member of the site, or just someone who has an OC they want to show off!
For example, this is the 2018 Community Collaboration image, featuring an astounding 603 characters drawn by a staggering 374 artists – all in a single image!
It's simple! Just upload a picture of your OC posting for the camera, whether you drew it or someone else drew it for you, and add the
2019 community collab
tag to your image. That's all there is to it!
It is very important that you add the tag to your image. If your submission does not have that tag, I will not see it, and therefore it won't be included in the final image.
All submissions are due by 11:59PM Eastern Standard Time (GMT-5) on Thursday, December 27th, 2018.
1) All submissions must be rated "safe" and may not have any tags that would be hidden or spoilered by the
Default Filter
.
2) All digital art submissions must be either a PNG or SVG file that has a transparent background. Traditional art submissions are an exception this this rule, but editing out the background and saving it as a PNG would be appreciated.
3) Any 2D art style is welcome.
4) Images of a pony sitting or standing on all fours should be a minimum of 800px in height, head-to-hoof. 1200px is preferred. Images of ponies standing on their hind legs or in an unusual pose should be proportional.
5) Characters should be original art – images created using a "pony generator" or puppet are not allowed.
6) Original characters only. If you want to sneak a canon character in, plushies are magic ;)
7) Ponies should be a normal-sized show-canon species (pony, griffon, etc). Original species are welcome, so long as they're in a believable show-style appearance. Sorry, but no humans, anthro, or EqG-style OCs, as well as adult dragons or sea serpants.
8) Characters should have a believable, cannon-esque appearance (no insane clothing, large accessories, etc).
9) Characters should be posing for the camera and not doing anything too overly insane (but having some fun is allowed).
10) Winged characters should be standing/sitting on the ground. Please do not draw a character flying unless you have been giving permission first. See below for more information about having a character flying in the image.
11) If you have multiple OCs, please only submit one. Although if they're holding a small plushie of your other OCs, that's fine too. This rule applies to who owns the OC, not necessary who drew it.
12) Submissions may not have any watermark or signature that obstructs the image.
13) Characters should not be offensive in design, likely to cause intentional controversy, be created with the intent to troll, or otherwise have a negative impact on the final image.
14) Due to the nature of this project, all submissions to the collaboration are considered immune to DNPs and takedown requests. If you're submitting an OC drawn by someone else, please be sure to verify that this is alright with the artist first.
15) Characters should be drawn completely from head-to-hoof. Please do not crop the image, or create an image that it cut off at the waist, legs, etc.
The goal of this collab is to allow everyone to show off their current character designs and abilities as an artist. Therefore, please submit some newer artwork – either something drawn within the past few months, or even better, create a brand new image for the collab! We won't say "no" to an older image, as we understand that not everyone has time and we want as many people as possible to be involved, but please do not submit any images that were in the 2017 or 2018 community collabs!
The community collab does not have any fixed theme. However, I'm already tired of how cold it is, so this year's collab is going to have a summer theme. If you want, draw your OC ready for summmer – sunglasses, sunhats, swimsuits, waterguns, etc.
If you draw swimsuits though, just keep it PG please
Since characters should be facing the camera, it's preferable that they either be looking straight towards the viewer (portrait view) or at an angle (3/4ths view), as shown in the below examples. Although allowed, it's discouraged to submit characters that are looking/facing straight to the side (profile view), as those are harder to place within the image, and likely will be pushed towards the sides of the image.
Accessories and clothing are always allowed and welcome, but due to how crowded the picture will likely be, things may be covered up as well. It's recommended that any accessories be held close to the character's head, as shown in the examples below. Likewise, if you want to include a canon character or an additional OC of yours, give your character a plushie, as shown in the third, fourth, and sixth examples.
(Honestly, it's hard picking only a few example images. There's too many good ones.)
If you'd like to submit a photo featuring multiple characters (such as your OC with a friend), that is completely welcome! But again, due to how crowded the image will be, please keep the characters close together and don't have any large gaps between them. Likewise, if you and your friends are submitting multiple "solo" images that you would like grouped together, please just post such a request in this thread, linking all the images, and we'll see what we can do!
Non-canon species are allowed so long as they're not too far of a departure from a show canon species. There's not really any clear way to describe it, but just ask if you're unsure.
Generally, all characters in the image will be standing/sitting on the ground. However, we will likely have 4-8 flying OCs in the air to "fill the space" above the main group. Since flying characters are a more prominent in the image, they will be subject to some quality control and thus have to be pre-approved.
At this time, we are no longer taking applications for flying characters. People who applied to have one will be contacted and informed, but if you did not apply, please do not draw your character in a flying pose.
There are a few amazing artists who've offered to help out with drawing OCs for the collab, or otherwise help out. Remember that they're doing this because they're cool people, but they're under no obligation to draw anything for you, so if they say no, please respect that. Additionally, please only contact one artist to draw your OC, their time is valuable!
If you're an artist who'd like to volunteer to help others out and would like your name added to the list, just let us know!
>
saby
→
Darkest Lunar Flower
→
Ninji
→
RainDashESP
→
Dragonpone
→
Binkyt11
→
PegasusSpectra
→
Parcly Taxel
→
Artista The Filly
→
Salamenace
→
Twilight Schwifty
→
Dragonchick
→
RainbowDash69
→
T72B
→
Guardian Talon
→
LightningBolt
→
TexasUberAlles
→
Moonatik
→
Rinikka
→
Toyminator900
→
Calena
→
40kponyguy
→
phat_guy
→
Cinderfall
→
SapphMOD
→
succubisamus
→
Моцна п'яны
→
Corvidae
→
Foxyghost
Q: How do I submit an OC to this project?
A: Just upload it to Derpibooru, and add the 2019 Community Collab tag. That's all there is to it!
Q: I'm not an artist/I can't draw my OC. Does that mean I'm excluded?
A: Not at all, if you're part of Derpibooru's community, or the MLP art community in general, you're welcome to include your OC in the project, even if the picture was drawn by someone else!
Q: Can a submission have multiple OCs?
A: For people who have multiple OCs, we prefer that they only submit one per person. However, if you'd like to submit an image that includes OCs from multiple people (such as a group of friends hugging), that is completely welcome! (Just be sure to check with them first).
Q: I hate those rules! My OC/image doesn't meet them!
A: If the image you want to submit doesn't fall within the rules for the collab, or would like an exception made, or anything like that, just ask and we'll can see if we can work something out.
Q: My friend and I are both submitting images, can our characters be placed next to each other?
A: If you want your character to be placed next to other characters in the collab, just make a post in this thread requesting so, and include links to all pictures. Note that if you do not post the request specifically in this thread (and instead post it in the image description or a comment on the image), it may be missed.
Q: If I submit an image of my OC, is it guaranteed to get included in the image?
A: We will try to include as many submissions as possible. However, some submissions may be rejected, including ones that:
→ Are particularly low quality
→ Appear to be made as a trolling attempt
→ Are overly obtrusive (large accessories, action poses that take up a ton of room, etc)
→ Are made using Pony Creator or any other form of image generator
→ Appear too far removed from the MLP universe (Dinosaur OCs, etc)
Q: Badges?
A: Of course! Just like last year, badges will be awarded for participating in the community collab! There will be one badge for everyone who's OC was submitted to/appeared in the collab, and another for artists who drew OCs for others so that their OC could appear in the image. These will be new badges that will likely be created after the image is finished, because I'm that kinda lazy.
Q: When will the group photo be posted?
A: My goal is to release it on Derpibooru's seventh anniversary, January 2nd, 2019. That may shift a day or two back though as life gets in the way.
Q: I'm not an active member on Derpibooru, can I still participate?
A: Of course! This event is open to the entire MLP fan art community, regardless of how active you are on Derpibooru, or in general. You don't even need to have an account on this site to participate.
Q: Do submissions have to be vectors?
A: Not at all! Any form of 2D visual art is welcome, including vectors, digital drawings, and traditional drawings!
Q: Can two people work on a single character? Such as One person sketches and the other colors?
A: Woah, a collab within a collab? That's like… Collabception! But sure!
Q: I have another question!
A: Just ask!